Launch of Guide to 'Implementing Operational Ocean Monitoring and Forecasting Systems'
OceanPredict Partners
13 Jul 2022

The Guide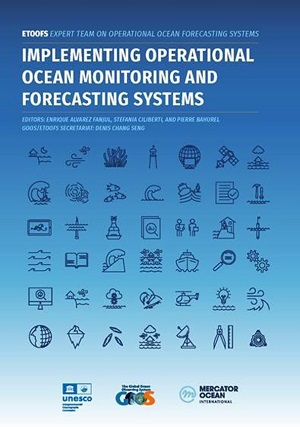 On the 1st of July at the United Nations Ocean Conference in Lisbon, the Global Ocean Observing System (GOOS) and its Expert Team on Operational Ocean Forecasting Systems (ETOOFS) announced the release of a Guide on "Implementing Operational Ocean Monitoring and Forecasting Systems".
This guide provides an overview of the entire value chain of an operational ocean monitoring and forecasting system and presents international standards and best practices for setting up such a service.
Initiated at the request of the Intergovernmental Oceanographic Commission of the UNESCO (IOC-UNESCO) and the World Meteorological Organisation (WMO), the guide was funded by GOOS and Mercator Ocean International. It was produced thanks to the cooperation of 51 institutions from 18 countries worldwide. 80 authors have participated in the writing, under the coordination of the editors Enrique Alvarez Fanjul, Stefania Ciliberti, and Pierre Bahurel.
View all news